Are you here to learn more about tits and  Breast Worship.  Maybe you are one of my fans , and you came by to drink me in? Or perhaps you happened on this blog because of your naughty keyword searches. However you found me, sit stay and let's get acquainted with one of the more popular parts of the feminine form: Breasts. Before I begin, Bookmark my blog and check back often for some insider tips on Women, Femdom and how to explore all things sexy and fun!
Tits 101
You've been staring at them, dreaming of them and for a few lucky feller's you have had a chance  to feel them up! Some men have boob brain, morning noon and night. You know who you are. I also know, that you know, how to please yourself with those tits.  I agree breasts are a lot of fun and in more ways than one! But when did you have a sit down with your favorite pair? See what you can do to help them feel their best? Ask, are you doing a good enough job? Do you know how to please those breasts the best? If you read on, and head my advice you'll have the breasts in  your life singing your praises!
Anatomy Of The Breast
The breast, be it small or large is comprised of glandular and fatty tissue. It's that tissue which makes them so much fun to fondle and fuck! Then, you have the areola and nipple.
See nothing too complex, right? What gets a tad more complex is how to treat those breasts, and make them want more!
Breast Do's
If you want your favorite tits to seek out your touch and attention keep the following in mind.
Your hands, take care of them. Making sure they are clean, and as soft as you can get them. I insist that my partners use lotion regularly to ensure they are ready for pleasing me. Nothing more distracting or a turn off  to have sandpaper-hands on those soft supple globes. Well, anywhere really, if you get my drift.
Take good care of your lips, dry cracked lips are like sandpaper as well. Are there those ladies who enjoy that type of "scratchy" sensation play? Certainly but I'll venture to say the likelihood of that is slim. Particularly when warming them up. Speaking of lips, those lips and tongue are good for more than just the nipple. Kiss lick , suck all areas of the breast. It's all good,fellas.
Explore with finger tips only, at first. Exploring their shape, the softness. Focus on her, her reactions to various touch. Starting with the side, nearest the arms, then down and around. Tracing circles , or other designs and watch those nipple pucker and become erect just by your soft touch.
As you play, your touch can become more firm.
*Pro tip*
Listen with your ears and your eyes to her body how does it respond to this touch , or that? Keeping in mind your light touches lead to firmer touch. Massaging with your palm kneading the flesh with your fingers, as you  increase in fondling. Is her body telling you to continue, slow down? More?
Focus, it's your job. Plus it's so intimate and fun to watch your partner's arousal increase because of you.
*Pro Tip*
As you may or may not know the breast goes through changes during a Woman's cycle and what was pleasant yesterday may not be too pleasurable for her that day. So never forgo the above steps, pay attention and adjust accordingly.
Almost all women would appreciate a slow build up, your touches and caresses can increase in firmness and pressure as the temperature rises.
Similar  nipple sensitivity can change through the month. What you did yesterday may not be good today. Gentle at first, communicate with her, before turning and tweaking those knobs!
Breast Don'ts
Don't ignore them! That might seem silly for me to say, but just because your sexual encounter and attention has moved south of the border don't leave them hanging! Go back to them often!  There's an amazing connection between  breasts nipples and the neighbor below the belly button. You can easily ramp  up her arousal by stimulating both above and below the border.
Never ever, unless she has specifically asked you to, just randomly grab her tits like you just caught a 20 yard pass. They deserve more respect and adoration than that, not to mention, as I said above it might actually be painful.
Rubbing nipples and areola with your thumbs and fingers and gently pinch But, don't clamp on them like your fingers are jumper cables and they are the contact. Gradually use more pressure or pinches, unless your partner tells you that she likes it.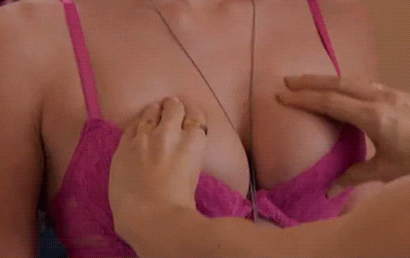 All of this talk leads you to one of the more exhilarating ways to play intimately. Even if you don't identify as a submissive, and particularly if you do; breast worship will leave you both exhilarated and glad you imbibed! I promise it  will become part of your sexual repertoire that you both will go back to time and time again.
Using the techniques mentioned above combining it with erotic play below , low and behold you have Breast Worship!
First just gaze appreciate them.  Commit their shape and size to your memory. Utter the first words from your mouth to describe them and what they do to you.
Using oils, of all kinds. Warming oils which heat up on contact, or your favorite massage oil. Timing is everything so either use an edible oil or make sure your mouth has done its job before using. We want toxic free play!
Bathing Body Worship is sexy and fun, so don't forget the boobs!. Soap those puppy's up! You know you want to , so does she.
Soft fabrics, anything ultra soft. Polyester and blends  have various items like robes, scarves etc made with "moan" soft fabrics. You'll know it when you touch it.
Worship with mouth only. No hands, even blindfolded (even hotter) Explore each inch with your mouth and tongue. Wet that nipple and gently blow.
Breast Worship Toys And Sex
If you perform your breast worshiping well, You just might find that stiff prick sliding between them! I know you'd love that humm? Breast sex for some is the best sex! Now say that ten times fast and if you can do it in my ear there just might be a special treat for you! Mention this blog on your call!
For some Women who like it a bit rough, there are a plethora of toys you can use. Nipple clamps, Nipple suckers which make those nips nice and sensitive! I know some who can cum just by nipple play! Mmm Delicious, humm?
Looking for more of a BDSM aspect to your play?  If your partner is into it, tie them up!
How Would You Worship My Breasts
Now it's your turn, I've lit the fire you continue. What ways I haven't mentioned today would you employ during breast worship? What have I mentioned here that you'd like to try?
Until We Chat
Mistress Erika